Schedule Email
What is Schedule Email?
Schedule Email allows you to choose the exact date and time that you'd like your Quote emails to be delivered.
This allows you to focus more on the work you're quoting, and completely automate sending perfectly timed Quote emails – just set and forget.
How to use Schedule Email
You can schedule emails whenever you send an email in Quotient, such as new Quotes, editing and resending Quotes, and sending Follow-ups.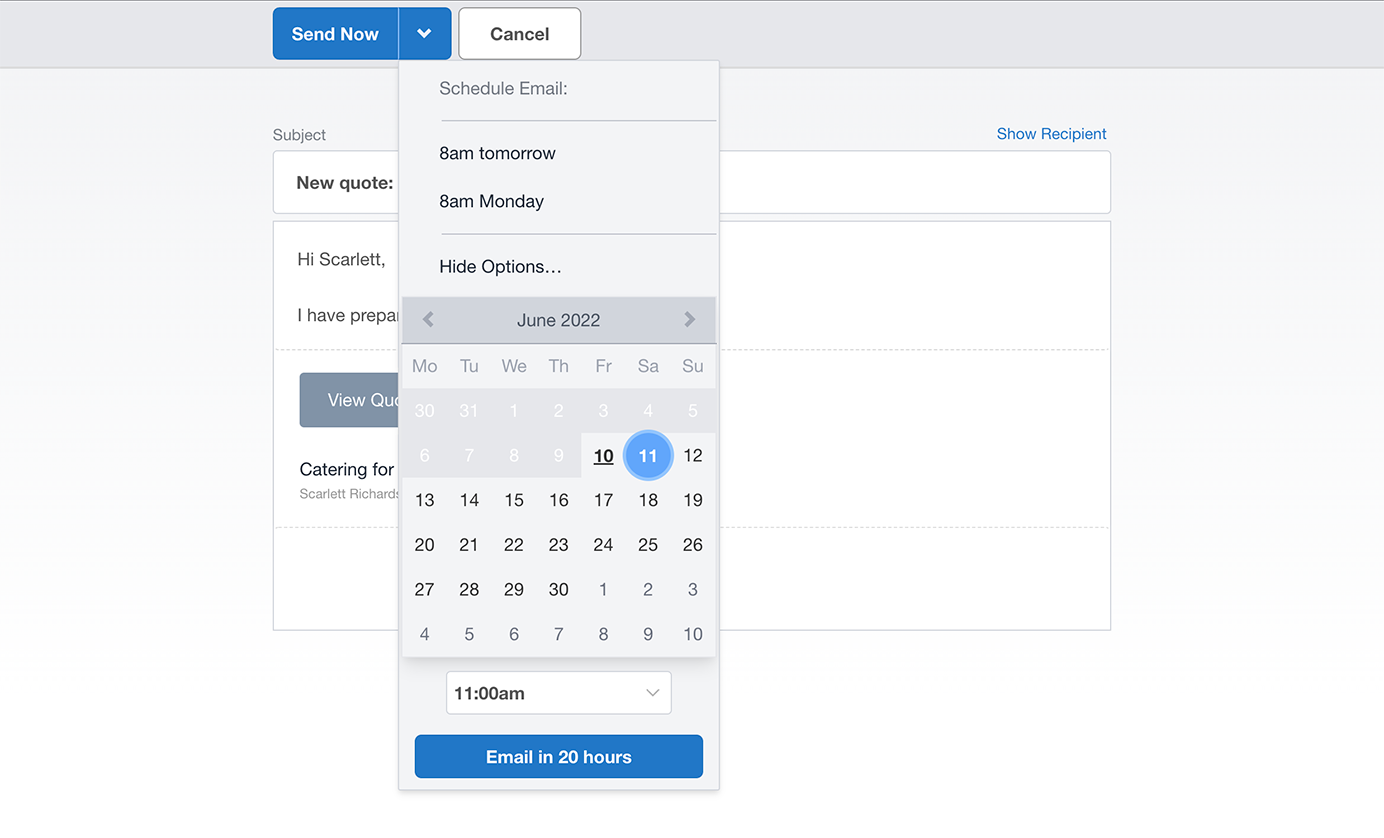 To schedule an email from the Quote Edit screen:
Hit 'Preview & Send', 'Send…', and then hit the down arrow on the 'Send Now' button.
Select one of the handy default schedule times, such as 'Today, 1 PM', 'Tomorrow, 8 AM', or 'Monday, 8 AM'. These defaults aim to loosely fit standard email patterns, and allow you to send out your Quotes when the recipient is likely to be available to read emails. If you'd prefer a specific time, under the default schedule times, select 'More Options…'. You can then choose whichever date and time suits best from the calendar and time dropdown. To confirm your scheduled email date and time, hit the blue button confirming your scheduled send time.
Once your email has been scheduled you'll be taken back to the Dashboard, with a message up the top of the screen to either 'View' your Quote, or 'Stop Email'.

Instances where scheduled emails are stopped
A scheduled email will send automatically, unless the Quote is either Accepted, Declined, or Withdrawn, before the scheduled send time. In these cases, the scheduled email will be automatically stopped. This is to prevent any untimely double-ups with your customer.