Layout, Contact Info, Acceptance
There are a range of things you can tweak to tailor your quote appearance, in Account Settings → Manage Account → Layout, Contact Info, Acceptance. As you change the settings you'll instantly see a handy little preview, plus you can hit the 'Preview Full-size' button to see a full-size version before saving and publishing your handiwork. Changes will be applied to all of your past, current and future Quotes.
Have a look at our Quote Examples for some inspiration.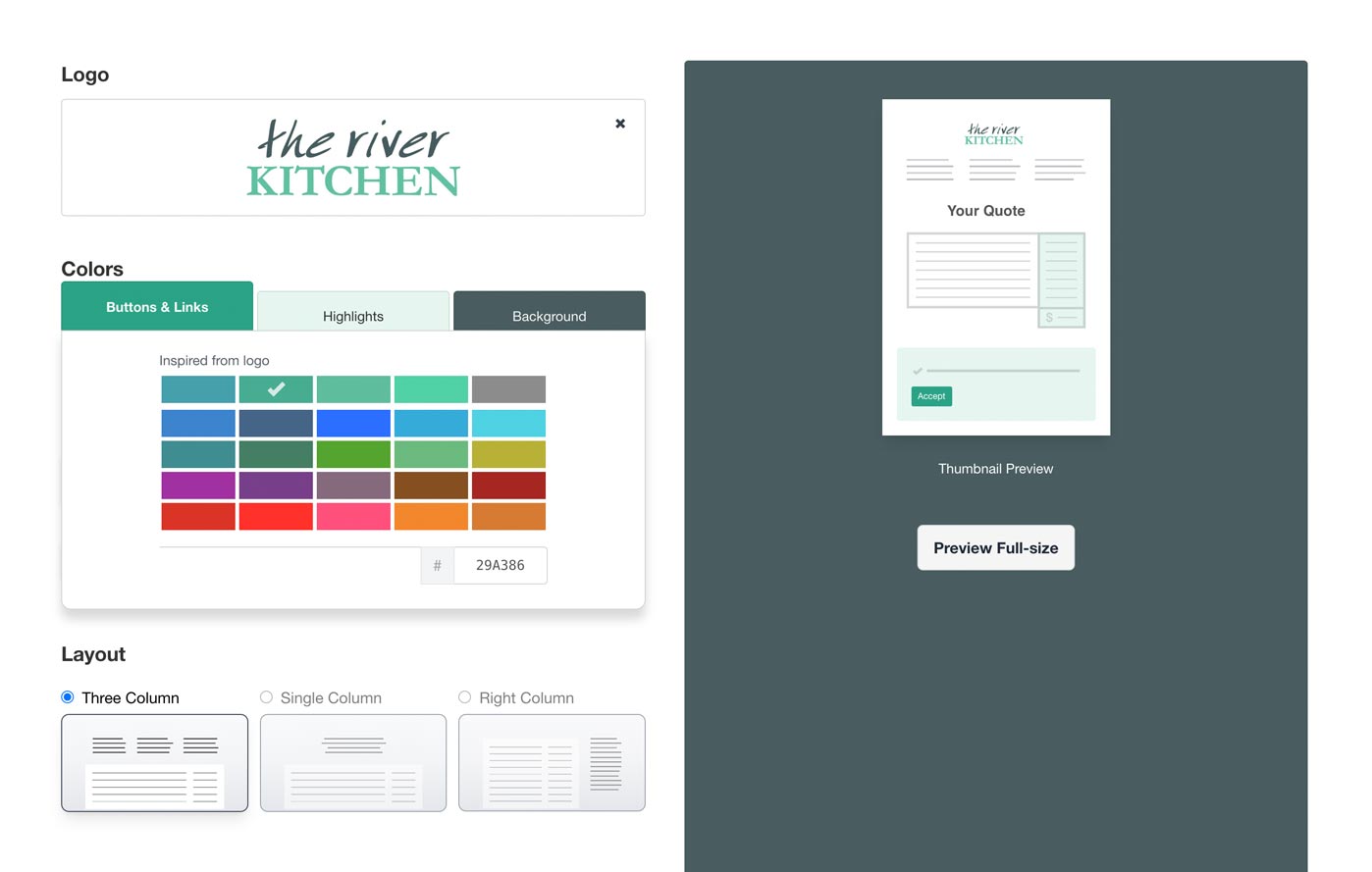 Logo
Browse and upload a high-resolution version of your logo. It will automatically be resized so that it looks crisp on retina displays and in print.
A minimum size of 600 pixels wide/high is recommended.
Supported file types are .PNG .JPG and .GIF.
Colors
There's a palette of colors picked especially for you, selected algorithmically from your logo so that your colors will be on-brand every time. Colors can be applied to Buttons & Links, Highlights, and the Background of your quotes.
You can also use any color by manually entering the HTML hex code, e.g.#A8CD25.
Fonts
Choose from a range of handpicked san-serif or serif fonts for your Headings and Body Text (Long Descriptions).
Layout
Columns
Three Column: Contact detail runs across the top in three columns. Ideal if displaying contact details is important.
Single Column: Contact detail runs in-line at the top. Ideal for creating a clean and simple look.
Right Column: Contact detail runs down the right-hand column, with the quote detail displayed in the left-hand column.
Alignment
Left Align: Logo and Quote Title are left aligned.
Center: Logo and Quote Title are centered.
Right Align: Logo is right aligned (Quote Title remains left aligned).
Contact Information
Quote Author
Choose this to show Authors Name, Job Title, and Phone (from Your Profile) on all your Quotes.
Customer Detail
Chose this to include Additional Email, Phone, and Address (if available on the Contact).
Company Name and Contact Info
Optionally enter any extra company information that you'd like to have displayed on your Quotes.
Print PDF
Check the box next to 'Enable Print PDF downloads' if you wish to make this available to your customers and yourself.
The PDF Page Size can be A4 or US letter.
Pricing Format
Change how you describe Tax (VAT/GST etc.) and whether to show Currency Symbols/Codes in your Quote Totals.
Acceptance Signature
Choose a simple acceptance statement or a statement with checkbox (which is required to be checked to accept).
eSignature: Require customers or Draw or Type to sign.
Optional Acceptance Fields: 'Additional Comments' and 'Order/Reference Number'.