Xero – Getting Connected
Quotient integrates seamlessly with Xero. You can lookup your Xero Contacts and Xero Inventory Items when creating Quotes. These are real-time lookups, meaning they work seamlessly alongside Quotient's own powerful Contacts and Saved Items.
Best of all, once a Quote has been Accepted, an Invoice can be created automatically in Xero.
Connect to Xero
Click on your Account Name (on the top-right of your Dashboard), then go to Account Settings → Connected Apps → Xero.
Hit Enable for one of the services you require i.e. Create Invoices.
Login to your Xero Account, select which organization you'd like Quotient to access and hit Authorise. You'll be redirected back to Quotient.
Hit Enable for any other services you require.
Xero Invoices
A Draft Invoice can be created in Xero from an Accepted Quote:
automatically when the Quote is Accepted; or
automatically when the Quote is Archived; or
manually by hitting the 'Send to Xero' button.
How to enable Xero Invoices
Under 'Create Invoices' hit 'Enable'.
Confirm when Accepted Quotes are sent to Xero, what's included on the Invoices and the Invoice Due Date, hit 'Save'.
Match your Xero Account Codes and Tax Rates to those which are in Quotient using the appropriate drop-downs, hit 'Save'.
Displayed on the Invoice is the Quote Title, Customer order/reference number, a permanent link back to your Quote for easy future reference and all Accepted Price Items, including Unit Price, Quantity and Heading. There's also the option to include the full Item Description text on the Invoice.
For an Item Code to appear on the Draft Invoice the Item Code must also be present in Xero AND Lookups for Xero Inventory Items must be enabled in Quotient.
You can set the Invoice Due Date to be a specified number of days following the Quote Acceptance Date, or leave this empty and let the default Due Date in Xero or on the Xero Contact determine the Invoice Due Date (only supported when using Xero's 'classic invoicing').
Contacts are sent to Xero when an Invoice is created. If a Contact already exists in Xero, Quotient will NOT replace or update the Contact or relevant Contact information. Contacts are matched by Contact name.
Note: Make sure the currencies you quote in are also enabled in your Xero Account.
Xero Contacts
When adding Contacts to Quotes you can include your Xero Contacts in Lookup Results. Xero Contacts are indicated with a Xero logo.
Once you select a Xero Contact it will be saved (copied) into Quotient Contacts. Note: Only a person's name, email and company name are saved.
How to enable Xero contact Lookups
Under 'Lookup Contacts' hit 'Enable'.
Your Xero Contacts will now appear in the Lookup Results.
Required fields
Xero Contacts must have these fields populated to be included in the Lookup Results:
This Xero Contact would be included in the results: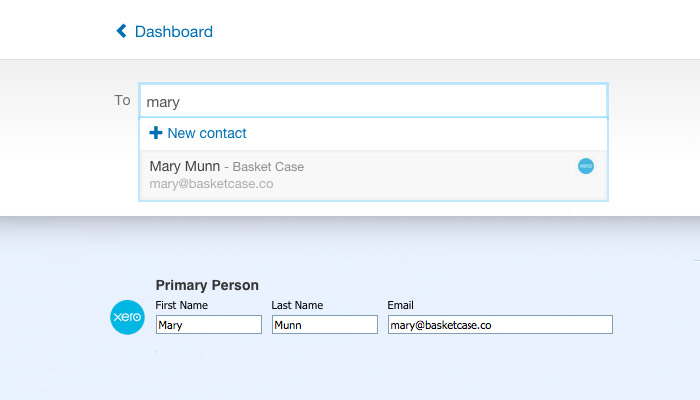 Xero Inventory Items
When adding Price Items to Quotes you can include Xero Inventory Items in Lookup Results. Xero items are indicated with a Xero logo.
How to enable Xero Inventory Item Lookups
Under 'Lookup Inventory Items' hit 'Enable'.
Your Xero Inventory Items will now appear in the Lookup Results.
Quotient does not create or update Xero Inventory Items.
See the field matches for Xero/Quotient Items.
Refresh your Lookup Data
If your Lookup Results data isn't appearing in Quotient exactly the same as your Inventory Items data in Xero, then you may need to refresh your Lookup Data. To do this, under 'Lookup Inventory Items' hit the 'Disable' button, confirm, then follow the steps to re-enable. A fresh cache of your Xero data will be created for the Lookups.
Why would I need to do this? You'd only need to do this if you've deleted Inventory Items in Xero then recreated them (manually or with a CSV upload) and used an Item Code(s) that existed previously.
Start a Quotient Quote from inside Xero
You can start a new Quotient Quote directly from a Xero Contact by setting up a handy time-saving link, which will appear on your Xero Contact. By doing this it can save you time by jumping you straight into a new Quotient Quote with relevant Contacts details populated.
To set up the link in Xero
Sign in to Xero
Go to Settings > General Settings > Custom Contact Links
Click 'Add A Custom Link' and enter the following values, then hit 'Save' when done:
Name: New Quotient Quote
Link Definition: https://go.quotientapp.com/new-001/quote?email={!EMAILADDRESS}
See also: