Today we're excited to tell you about our latest improvements, which include a new integration with Zapier and Webhooks API for Developers. Let's take a look at what's changed…
Improved and Simpler Settings
We've moved things around a little under Settings with the aim of making things clearer and easier to find.
Settings now includes an all-new Add-ons section (previously found under Integrations). Here you'll see all the Apps available to integrate with. There's now just one place to look and it's really clear to see what's enabled and what's not.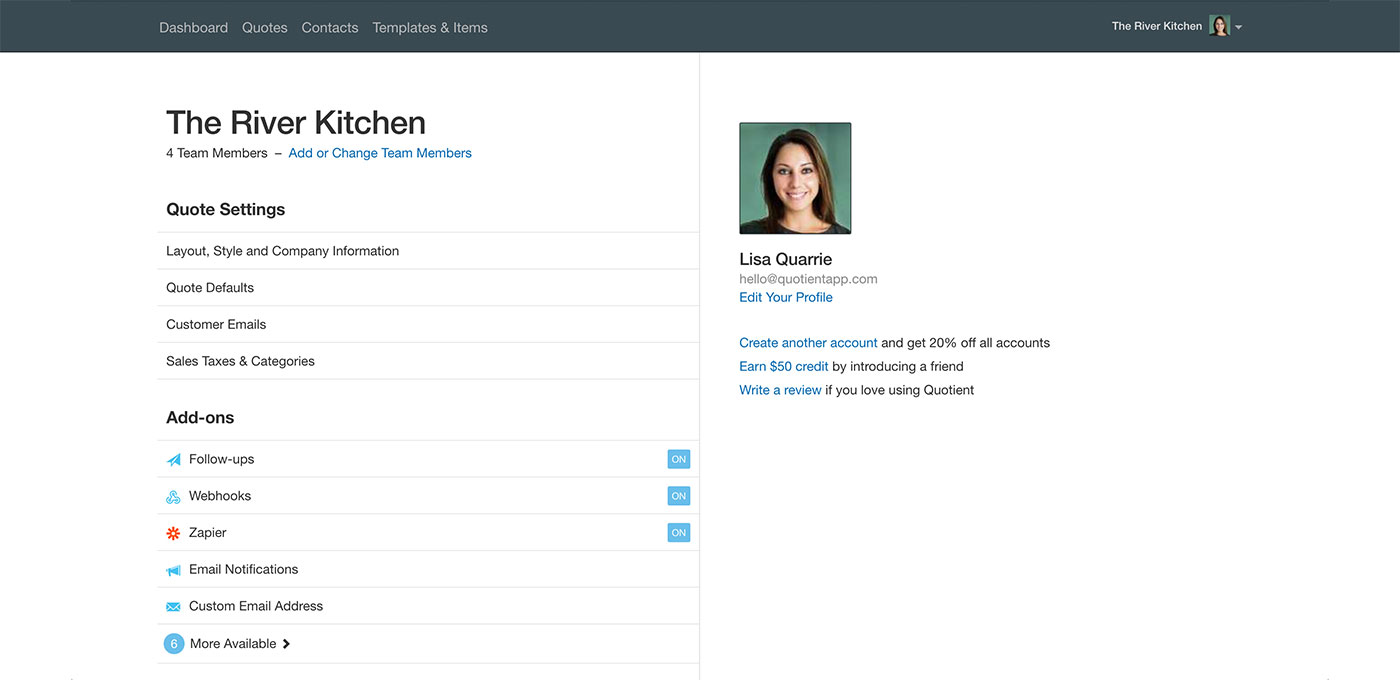 Your Account Name and Avatar
The account name now displays in the top-right header. This is handy to see, particularly if you have multiple accounts.
You'll also notice that your avatar now displays too. If you haven't already, you can add your own avatar in Your Profile. You can find this in Settings > Edit Your Profile.

Introducing Webhooks for Developers
There's great news if you're a developer, you can now register Webhooks for various events that happen in a particular Quotient Account. The moment an event fires, you'll receive a payload of data in JSON format. For example, when the event Quote Accepted fires, you could populate an invoice in your own in-house job system.
Read more about the Quotient Webhooks API for Developers.
Zapier Integration, Get Early Access
Zapier connects Quotient to lots of other web apps, allowing you to streamline and automate your workflow. Learn more about Quotient and Zapier.
We're currently a private Invite Only app on Zapier, but please get in touch and we'll happily send you an invite to get early access. Request your Invite now.