If you find yourself quoting similar things over and over again, you start to get pretty good at it. Finally, the sales pitch has just the right amount of pop without the pushy. "Perfection! We should do more of this!".
Well, you can finally take that perfectly designed quote and create a template from it. This makes the next quote even faster while encouraging a consistency in your quoting.
How to create a template from an existing quote
Find the quote you wish to create a template from, hit 'Actions' and select 'Create a template from this quote'. Alter any detail if you wish or hit 'Save' and you're done. It'd pay to note that all items in a template will also be saved as template items, meaning they will appear in item lookup results when creating new quotes.
Simple, yet smart
One cool feature when creating a template from a quote is that any items exactly matching existing template items will be linked not copied. For example, if your "Terms and conditions" is the same in a few templates, simply update the one template item and all your templates will be updated. This can save a lot hassle and time!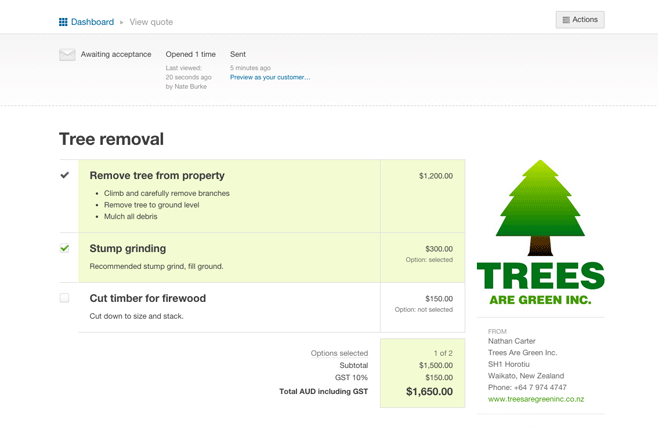 We hope you enjoy this new timesaver. And as always we'd love to hear your feedback!
---
See the release notes, 9 February 2015 for a full list of updates.