We were honoured and completely blown away to be presented with this award at the recent Xerocon NZ 2013 Awards and Gala Dinner. The official title is Emerging Add-on Partner of the Year (NZ) and the beautiful glass like trophy reads BEST NEW KID IN TOWN!
We'd like to give a big shout out to fellow nominees in our category, Timely and PocketRent, two amazing apps that we hold in the highest regard. And a big congrats to Unleashed for taking out the Add-on Partner of the Year award and of course to all the other winners, well done everyone.
Thank you to all the great people at Xero, to Rod Drury for inspiring a new breed of cloud businesses like ours, to Ronan Quirke and his team who have been fantastic to work with from the beginning. Thank you to all our amazing customers, colleagues and friends around the world who continue to support us and provide us with great feedback. Thank you to everyone who loves Quotient enough to recommend us to others – you rule! We're truly humbled.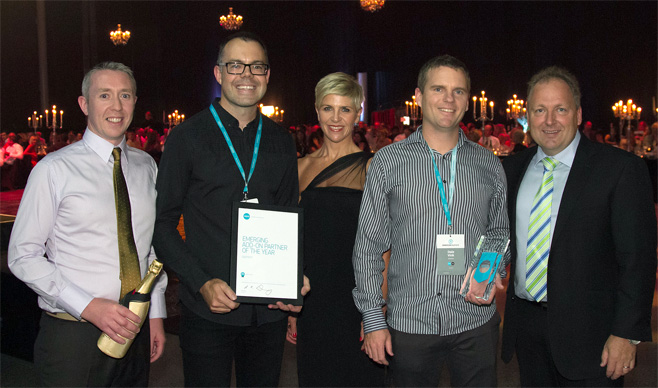 Ronan Quirke (Developer Partner Programs Manager, Xero), Nathan Carter (Co-founder, Quotient), Amanda Armstrong (General Manager NZ, Xero), Dale Vink (Co-founder, Quotient) and Rod Drury (CEO, Xero).