With an updated look and new features, including:
Line items can be moved up and down – this includes notes too!
There's a clearer way to define line items as either: required, a recommended option or an optional extra.
Define a tax rate – on a per line item basis
Account codes – to define the type of sale, product or service.
For those fellow Xero lovers among us: Account codes and tax rates are now directly mapped to a Xero invoice. Accounting bliss.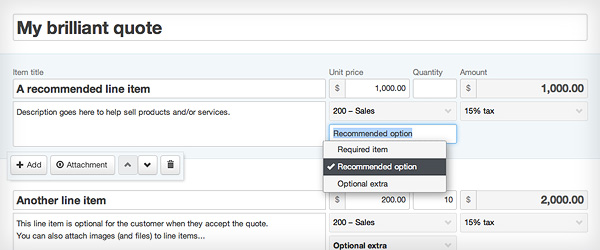 There's also a few other things we've been working on…
Customer from the dark ages who requires a hand-delivered quote? Not to be encouraging such behaviour, but you may now 'Accept on behalf' of your customer – skipping the sending by email step.
Print PDF A 'Print PDF' link is now on all quotes. Printing is now not only possible but… beautiful.
Like a little negotiation? You can now revise and edit a quote that's been previously sent. A quote under review will be offline to your customer, until you click 'Update'.
Deal fallen flat :( You may have an accepted quote that's no longer required by your customer. Revoke it, to keep your records and Dashboard facts accurate!
Stay tuned, for some more exciting things due out soon:
An address book for contacts – more on this later.
Inventory – for predictive line items and notes.
Custom messages on email notifications.
We're keen to hear from you if there's anything we can do to make Quotient better for you!